An architecture studio mixing progressive approaches to space, place and object. Sometimes covered in icing.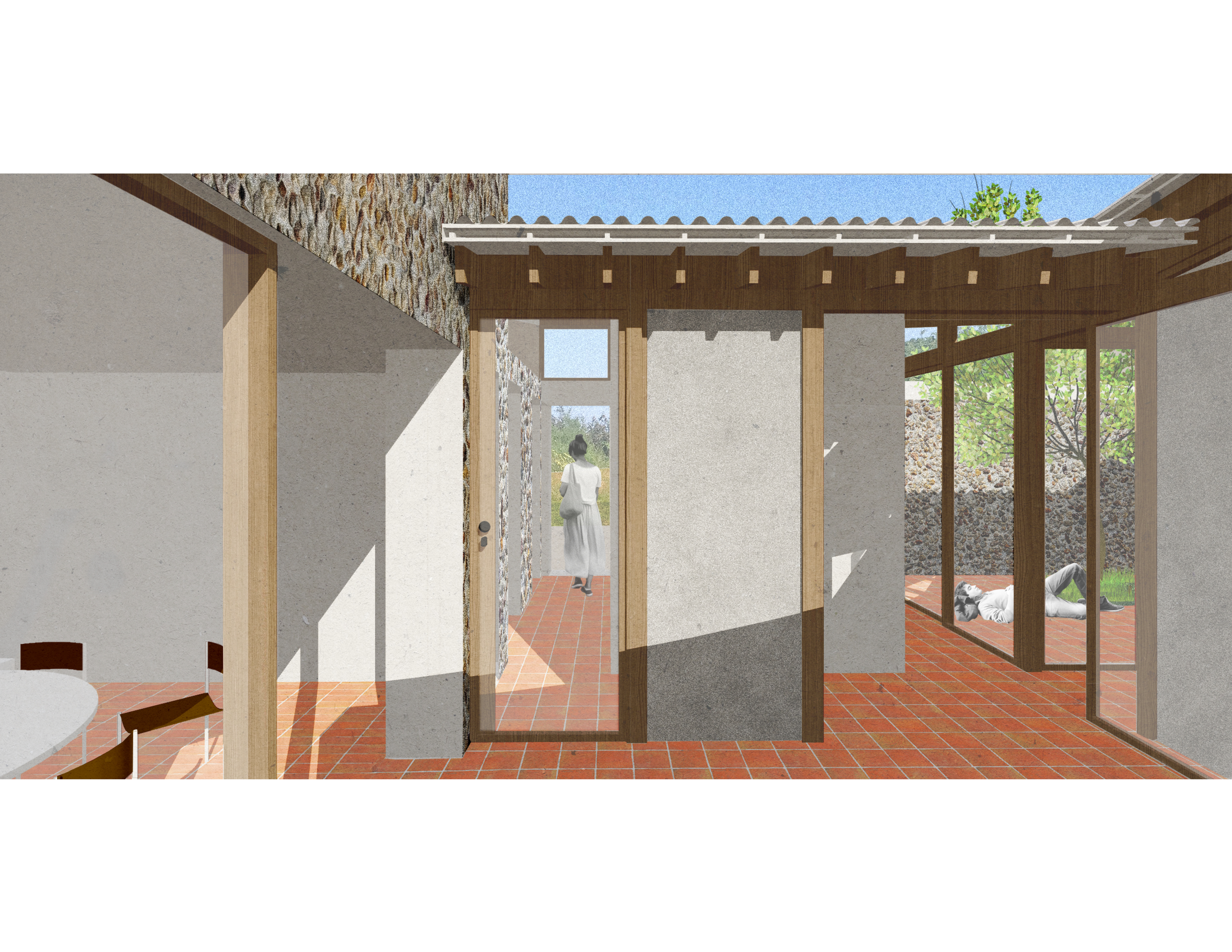 Cottage
SOMA SOHO
Farmhouse
Wooden House – Stone Tower
Poncho
Home - Office

Eight steps, three at a time, rinsing her hands in the sink, pushing the door open and entering the vast room, passing Harry, Lucile, Fortuna, Thom, Bianca, then into her zone, her aedicule, slinging her backsack into her office and scooting under the arch to find Sastra by the kitchen unit, with whom she shares the events of the day. Through the window, the sun is retreating behind the city skyline, the treetops of Soho Square. She finishes her tea, departs from her friend, turns back to the quiet of her office and begins to work.
This space, previously the headquarters of a pan-European advertising agency, is located in a tall 1970's highrise overlooking the old site of Berwick Street market. It has been re-purposed by its owners to offer low cost, semi-permanent residence to students and young professionals as part of a government-subsidised scheme to re-energise the depleted city centre. Aedicules are leased from the manufacturers and are customisable to suit an occupant's individual lifestyle. There are many sites like this across the country. This is one of the largest. Jerome has come here from family in Hounslow and will reside for the summer at least, working in a cafe on Wardour Street, saving money whilst she applies for an Art Council grant.
Thirty minutes later, her work is done. She extracts a change of clothes from the slide draw under the bed box and climbs up into that entombed space, pulling the wall panel closed and standing on the edge of her mattress in total darkness. The sound of the others outside has vanished. She redresses in the dark, slumping onto her duvet when she is done, a lazy twitch of her foot reopening the wall panel, letting in a chink of warm evening light.

The sound of wood knocking on wood draws her out. The others are by the fire exit, watching Goran and Marcia hammer a wooden pole into the earth in the centre of the piazza outside. Maypole, they say. Bring something, they say. Food, they say. Unlatching an ankle height compartment from her aedicule, she wheels it out and down the slope, adjoining it to the small city of wood and steel that has been relocated from inside, a table of many heights, an impromptu feast for the ancient carnival of Spring. Warm evening air, tomato stew, wine, a horde of buttered courgette, there is much talk, laughter, amazement. The sound of these streets, empty but for them, filled with chatter and life.


Aedicule
Stage
Pavillion
Cottage
Agora
Stage